Up-Close With Randy......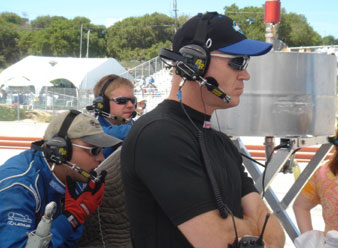 Randy Ruhlman is used to tough competition -- especially in motorsports. While many of his competitors started racing cars when they were barely old enough to walk, Randy waited until he graduated from Stanford University with a degree in Engineering before he began his career in racing. Though Randy holds track records, has earned race pole positions, and, of course, won a lot of races, he has also paid his dues.
Randy began his career in motorsports in road racing, becoming a top driver in the Trans-Am and IMSA Series, but also getting oval track experience in the NASCAR and ASA short track series. Today, Randy Ruhlman is the full-time driver of the Preformed Line Products Daytona Prototype in the Grand American Rolex Cup Series, running endurance races like the Rolex 24 At Daytona and the Six Hours of Watkins Glen.
In 2005, Randy Ruhlman won the prestigious Trans-Am season opener at the Long Beach Grand Prix and followed that up with a second place finish at Portland International Raceway. His win at that year's Cleveland Grand Prix was his third consecutive podium and tenth consecutive top five finish. Ruhlman held on to the points lead in the 2005 Driver's Championship throughout the final season of Trans-Am with a pair of fourth place finshes at Edmonton and San Jose. He ended the season at Montreal by sitting on the front row for the start and in a hard fought battle finished once again on the podium. Randy was awarded the BBS "Most Improved Driver of the Year", ending the year second in the Drivers' Championship. Ruhlman is fourth overall in top ten finishes in Trans-Am history. (more about Randy.....)